Walgreens Robbery (2017/08/09)
The Sarasota County Sheriff's Office responded to the Walgreens pharmacy at 5800 Bee Ridge Road for a report of an armed robbery. The suspect entered the store and demanded narcotics.
The suspect is described as white male who is approximately 5'10" with a skinny build. He was wearing a green beanie, brown leather jacket, and dark color pants. He was also wearing a gray backpack with black straps. The suspect threatened he had a gun but none was seen.
If you recognize this subject, please contact Crimestoppers. You can remain anonymous and may be eligible for a reward.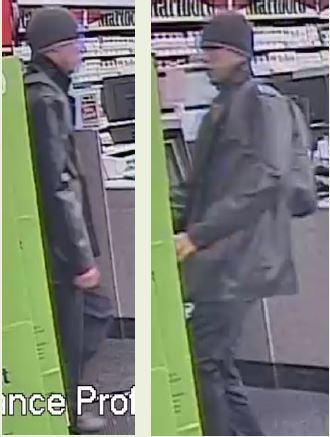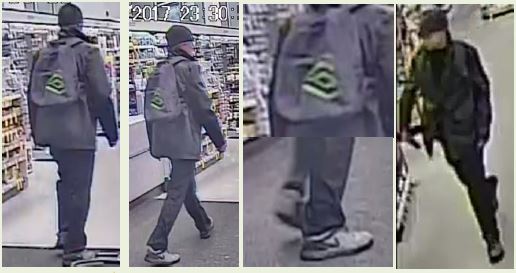 ---
Burglary and Motor Vehicle Theft in South Venice (2017/05/10)
During the early morning hours on 05/09/17, an occupied residential burglary, a residential burglary, and a motor vehicle theft occurred within blocks of one another in Zone 19. Due to the proximity and timeframe of these incidents, it is believed they were committed by the suspect described below.
At 0415hrs, a suspect, described as a white male, 5'10", medium build, blonde hair, with an Eastern European accent, forced entry into 1195 Ocelot Rd by breaking open the glass on a rear door with a rake stolen from the rear shed.
Once inside, the suspect confronted the homeowner, advised someone was after him, and demanded his car keys. The homeowner continued to tell the suspect to leave, and he fled out of the rear door. A laptop was taken from the residence and recovered in the backyard.
A few blocks away, the garage at 5780 Oxalis Rd was entered and cigarettes were taken from a vehicle parked inside. A bicycle, possibly belonging to the suspect, was left at the scene. Also, between 0400-700hrs, a white 1993 2-dr Jeep Cherokee FL 4203UI was stolen from front yard at 1172 Kenisco Rd. The Jeep is missing the driver's side window and has black mustang style rims.
If you have any information related to these crimes, please contact Crimestoppers.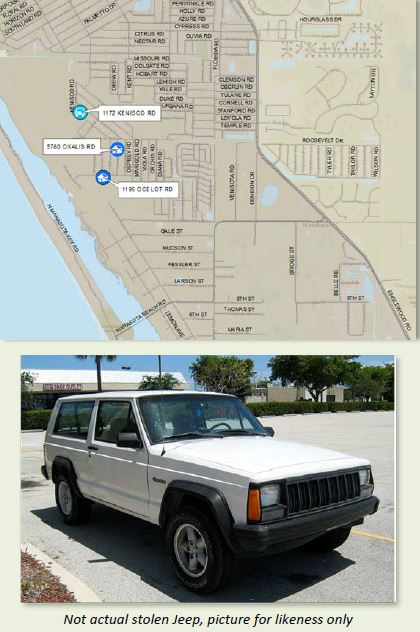 ---
Burgalry (2017/05/04)
On 04/26/17, at approximately 0520 hours, deputies responded to a burglary at Lee's Food Store located at 5604 Swift Road
in Sarasota.
Upon arrival deputies observed the padlock on the front door had been cut, possibly with bolt cutters.
Surveillance captured the pictured male suspect enter the business at 0515 hours carrying a flashlight.
The suspect went directly to an office were the business safe is stored. A deposit bag was taken during the offense.
If you are able to identify this suspect or have any additional information on this case please call Crimestoppers.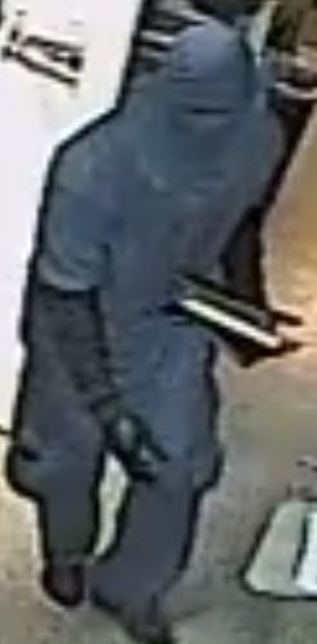 ---
HIT AND RUN ( Vehicle vs Bicycle ) (2017/03/20)
On Monday, March 20th, at around 5:15 pm, the victim was riding his bicycle on the sidewalk while crossing the Stickney point road bridge.
An eastbound vehicle, described only as a dark colored pick up truck, left the roadway and struck the victim on the bicycle, causing serious injury.
If you have any information regarding this incident, please contact Crime Stoppers.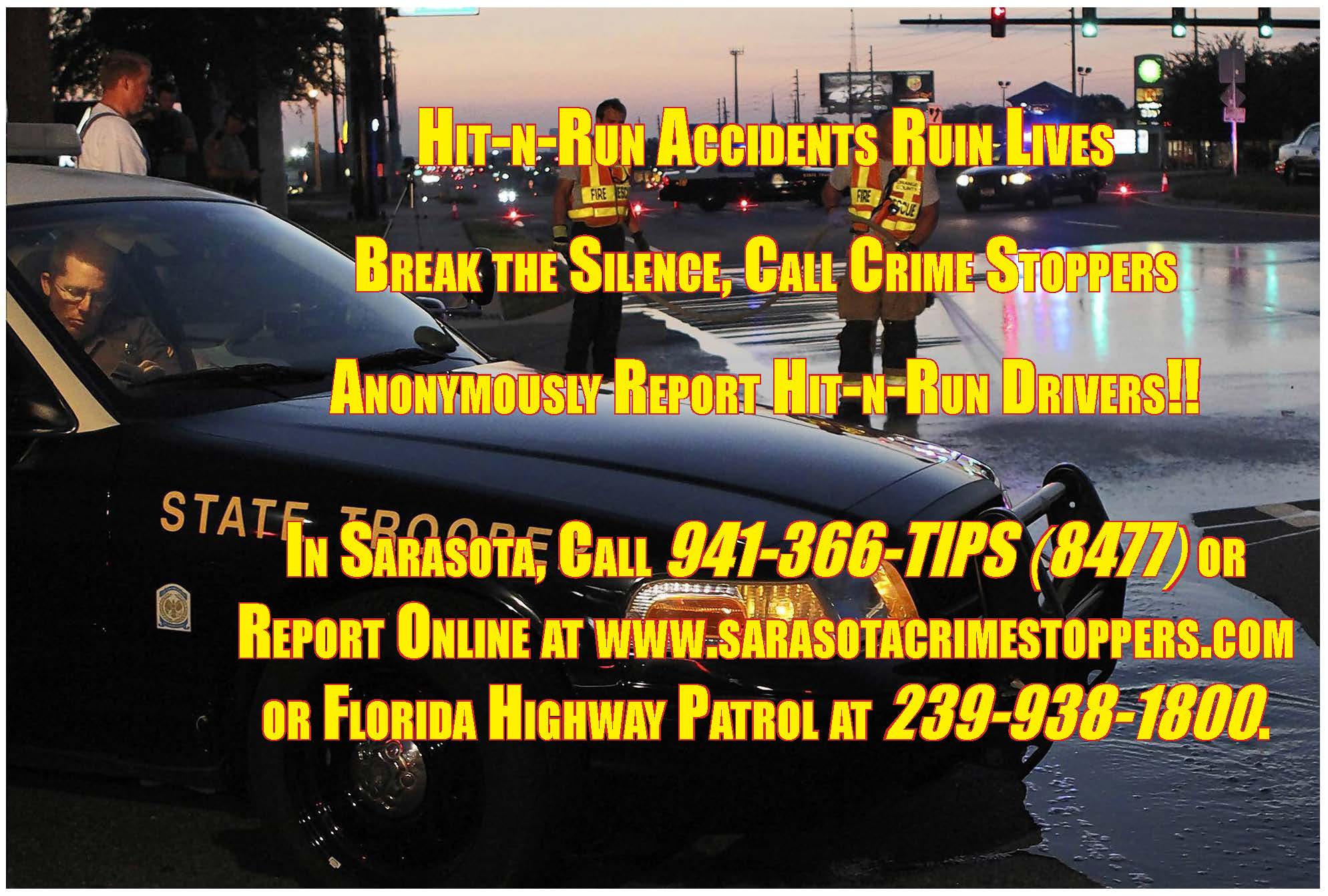 ---
ARMED ROBBERY (2017/03/09)
On Thursday, March 9th, at around 11:45PM, a masked subject armed with a handgun entered the KC Key Food Store at 716 Albee Rd. demanding money from the clerk.
The suspect appeared to be wearing black pants, a loose black sweatshirt, and a black mask with only one eye hole. The subject appeared to be armed with a large, black revolver.
If you have any information about this incident, contact Crime Stoppers.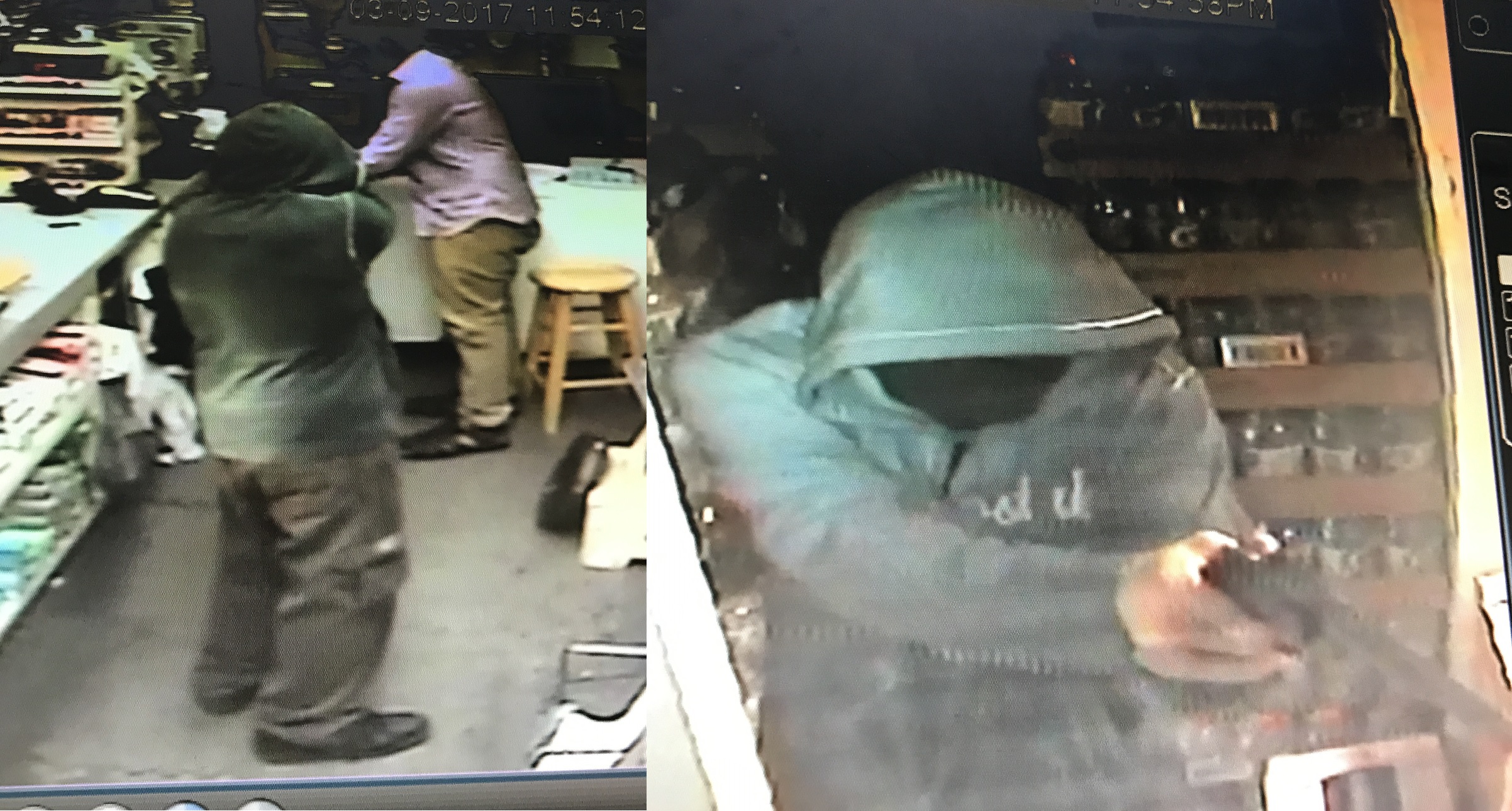 ---
GRAFFITI (2017/01/31)
On 01/28/2017 an unknown person(s) defaced the Venice Memorial Gardens, located at 1950 Center road in Venice. Please look at the graffiti closely. If you know or can identify the person(s) responsible, please contact Crime Stoppers and be eligible for a cash reward.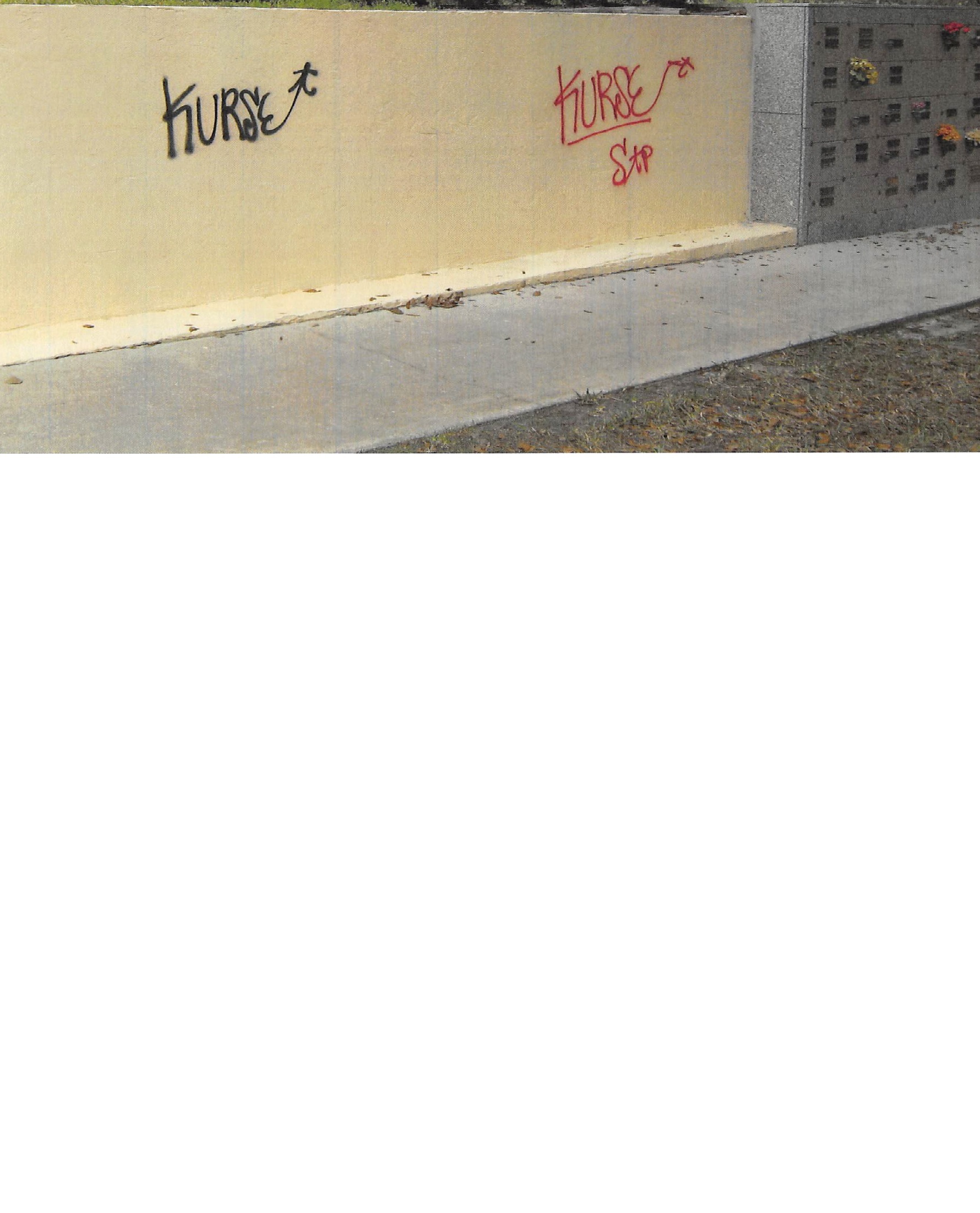 ---
THIEF (2016/12/06)
On Sunday, 11-20-2016 this thief grabbed the wallet of a woman seated at the Village Café on Siesta Key. It appears that he and his little friend were riding their bicycles in the area, when he decided to take a purse off the table of a Village Café customer (maybe it went with his shoes).
If you recognize either of these adolescent degenerates, Call crime stoppers, or use the link below.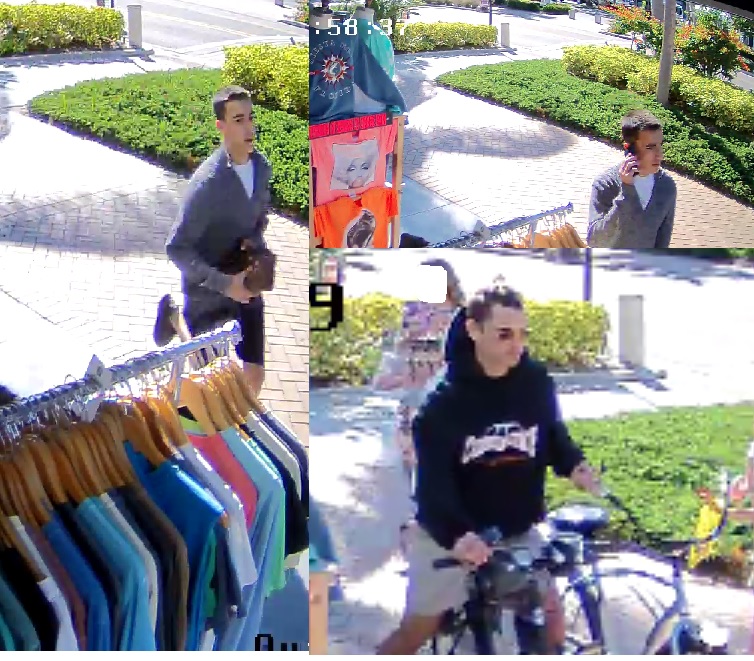 ---
Verizon Burglary (2016/10/28)
Look closely at this video. Is this someone you recognize? Do you know any information about this burglary? Crime stoppers has a ca$h reward for information leading to the arrest of the person(s) responsible for this crime.
Call Crime Stoppers at 366-TIPS (8477), report anonymously online at www.sarasotacrimestoppers.comor send a mobile tip using the P3 Tips Mobile application, which is a free download at Apple App Store and Google Play.
---
Burglary (2016/10/26)
We have cash for the person who can identify this guy. He burglarized Munchies 420 Café 6639 Superior Avenue, on Wednesday morning.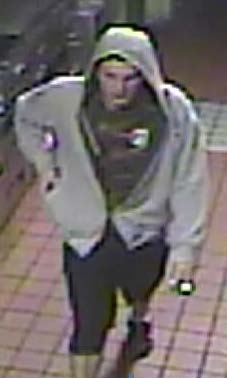 ---
BURGLARY / STOLEN CREDIT CARDS (2016/05/19)
On Thursday May 19, 2016, a wallet was stolen from a vehicle while the victim was golfing at 500 Rockley Blvd, Venice. The incident occurred sometime between 12:20 PM and 1:45 PM, when three of the victim's credit cards were used at the University Town Center mall in Sarasota. The subjects in these photos purchased an estimated $23,000 worth of merchandise at the Apple Store and Saks Fifth Avenue.
If you know these two, let Crime Stoppers know.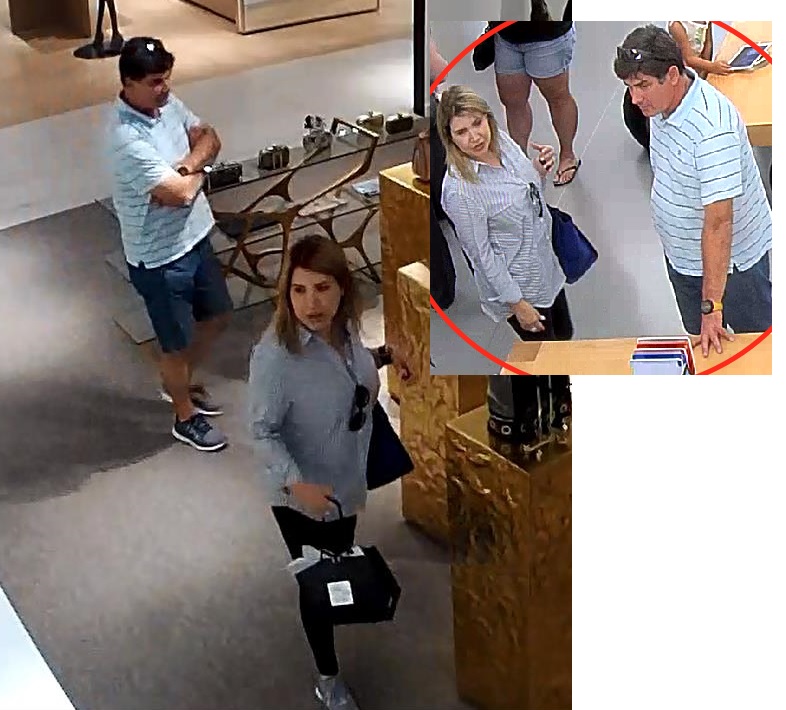 ---
Armed Robbery (2016/05/04)
On 5/4 at 0420 hours, a robbery occurred at the 7-Eleven at 1721 N. Honore Avenue in Sarasota. The pictured subject entered the store armed with a gun and demanded cash. The clerk complied and the subject fled north bound on foot through the parking lot. If you have any information on the identity of the subject, please contact Crime Stoppers.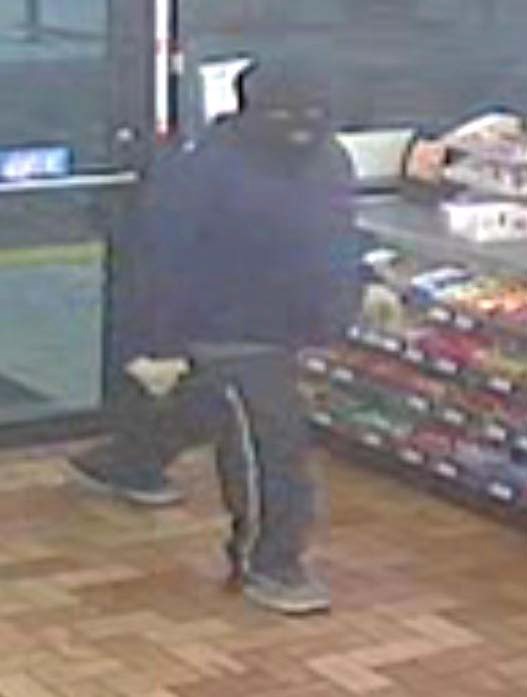 ---
Jewelry Store Burglary (2016/04/16)
On Saturday April 16, 2016, between midnight and 1:30 AM., Triton Jewelers1075 S. Tamiami Trail, Nokomis was entered by an unknown person(s) by cutting through the wall of the vacant business next door. Once inside, the suspect(s) entered a safe containing a large amount of jewelry.
If you know anything about this crime, contact Crime Stoppers and leave a tip.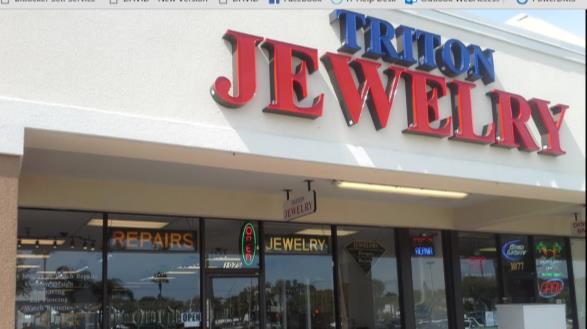 ---